The goal is to improve the support of the most vulnerable sub-group of the NEETs on their pathways. These "young people on the edge" are characterized by a complexity of personal and social difficulties, caused by psychological diagnoses, socially disadvantaged backgrounds, abuse, drugs, crime or other burdens. To improve the situation of the NEET group, the YIT project has developed the role of the ´scout´.
The role of the ´scout´ is understood as a close and consistent contact person for the young person in transition. The Scout profile combines two roles; "organizational coordinator" and "personal counsellor". The scout can act on both these roles or this can be several professionals, depending on how each country implements it.
The ´scout´ should be able to counsel and support youth personally from principles of career learning, as well as coordinate supportive initiatives across sectors. This can be done by upgrading the competences of the counsellors to better address the topic.
A competence profile
Competencies are a combination of knowledge, skills, and attitudes, as outlined in "Key Competences for lifelong learning – European Reference Framework" (Office for Official Publications of the European
Communities, 2007.
Key competencies are those competences, which individuals need for personal fulfilment and development, employability, social inclusion, and active citizenship. They go beyond the notion of only (academic) 'knowledge' (Corey and Corey, 2011; Lifelong learning programme, 2007). Action orientation is the most important element of the concept of "competence" (Illeris, 2012).
´Scout´: a generic competence profile
In a cross-national develepment process, the project partners in Youth in transition have outlined generic competences for the profile of a´scout´. The model is non-normative. It is intended to inspire professionals for considering their competences, respectively to inspire managers in planning employment, allocation of work tasks or empowerment processes.
Different combinations form different scout profiles. The profiles must match the expected tasks and the professional roles that are relevant for the given local contexts. Mostly, a counsellor will, according to his/her professional background, have at least some of the desired competences.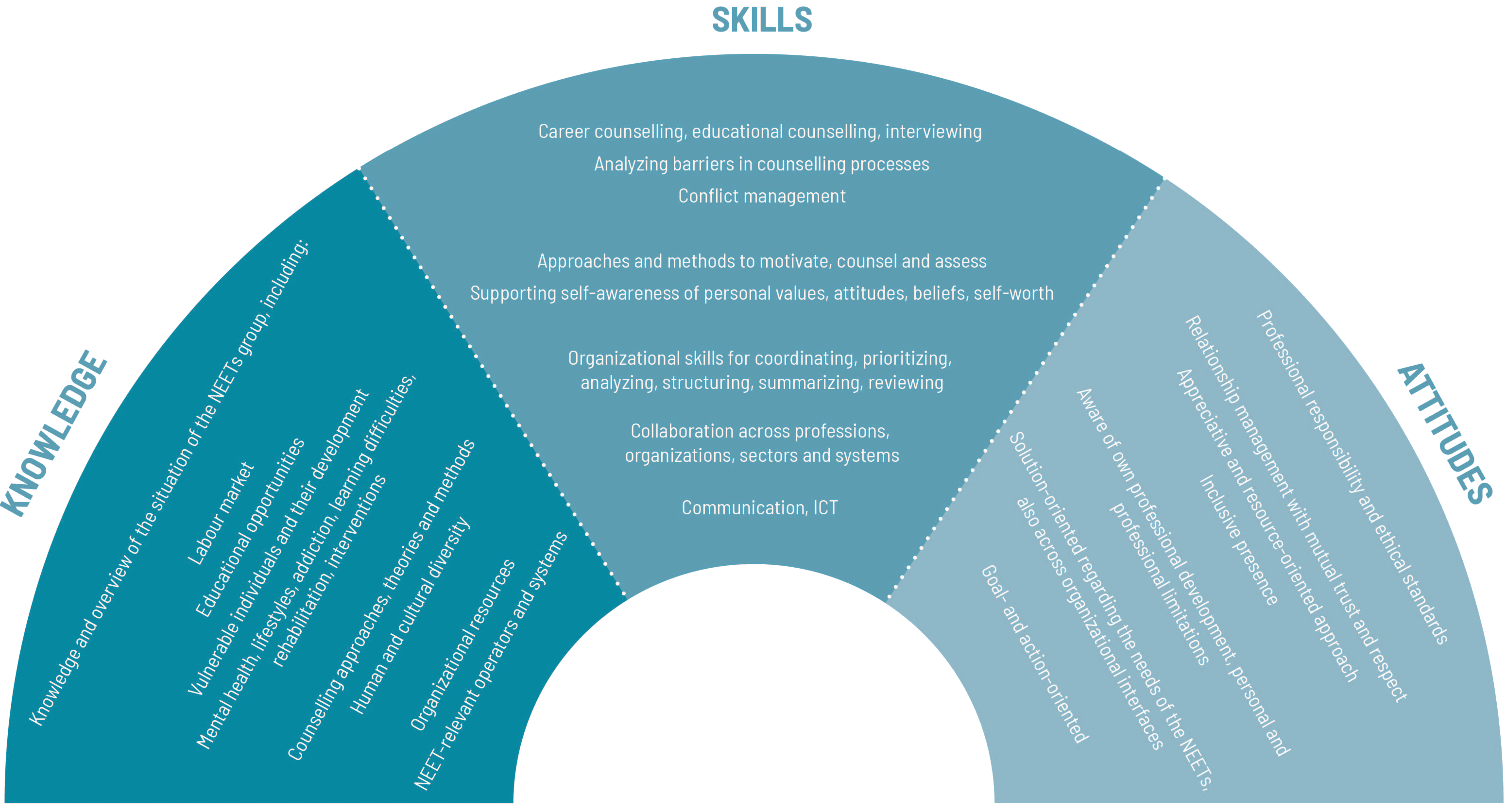 It is possible to create locale profiles in an interactive "drag & drop" version. Thus, the generic competence profile can be adapted to local needs.
---
---
´Scout´profiles in Slovenia, Iceland and Denmark
The generic competence profile is generalized and generated from national competence profiles for ´scouts´ in Denmark, Slovenia and Iceland.
---
Latest news
Status: Terminated
Grant: 347.496 €
Project period: October 1st 2018 to March 31st 2021
Contact: euk@kl.dk
Funding: Erasmus+
Funded by Erasmus+