Individual pathways for NEETs in cross-professional settings – didactics (IO6)
This section outlines a generic model for designing individual pathways for NEETs in a cross-professional context, supported by close contact persons (´scouts´) .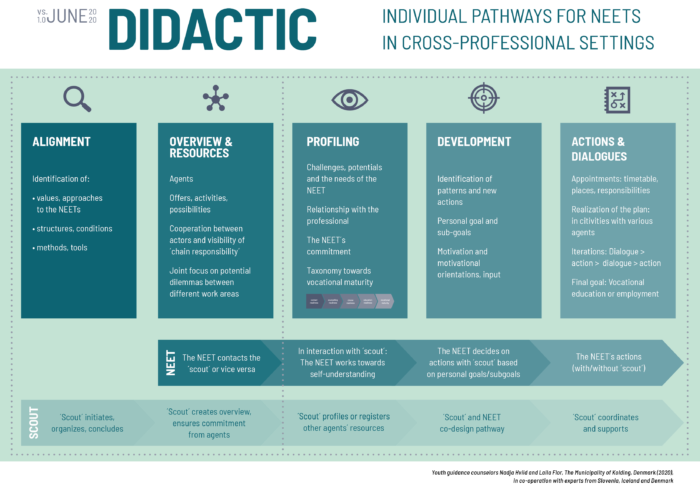 The generic model is an overview of how professionals can work, preferably together, with planning, evaluating and adjusting individual pathways for NEETs in a cross-professional context. The NEETs follow individual pathways towards vocational maturity to achieve self-sufficiency and a life they desire.
The term "NEET" refers to young people who are neither in education, nor employment or training. They typically struggle with a complexity of problems such as personal and/or social difficulties, psychological diagnoses, abuse, drugs, crime or lack of basic educational skills. Their difficulties typically occur in combination with each other.
Individual pathways are the procedural development process created in close collaboration between NEETs and their current contact person(s). That is, the development the young person must go through to approach vocational maturity. This process is continually evaluated and adjusted.
Collaboration takes also place between the different professionals and their organizations in the context around the NEET.
A ´scout´ is a close and consistent contact person for the NEET, during the phases of their pathways as well as during transitions. The scout profile combines two roles; that of organizational coordinator and that of personal counsellor. The scout can perform both of these roles or the role of scout can be divided among several coordinated professionals, depending on local implementation and the individual needs of the NEET.
The team behind and country versions
The generic model was co-developed by the Danish partner team of Youth in transition; in particular the Youth Counseling Center, UU Kolding, the national body for education guidance and youth guidance, EUK/KL, and consultants from Moeve aps, with contributions from the project partner organizations in Iceland and Slovenia. Hamburg University delivered quality assurance.
The European generic model has inspired the construction of national didactic models in Denmark, Slovenia and Iceland.
Denmark
The Danish model was launched in autumn 2020 and has been disseminated nation-wide. 11 municipalities work already with this didactic or parts of it, each of them with own local priorities.
---